1952 48-215
In Holden circles the name "Stan Bennett" is instantly recognisable and is inexorably linked to the 48 & FJ Holden Owners Club NSW.
So, who is Stan Bennett? Hopefully this expose will give an insight into Stan and what he means to the 48 & FJ Holden movement.
The way Stan tells it he really just fell into Holden's at a very early age. He was seventeen in 1960, had obtained his licence and needed transport to get around. The cheapest vehicle he could find was a 1950 Holden ex cab It didn't take long for Stan to be smitten with Humpies, and this was to eventually turn into a life affair with these lovely cars that has reached further than most of us could imagine.
Stan, an ordinary bloke, spent most of his youth in and around Sydney's west. His trade was a tyre fitter and in later life a tyre dealer. He developed a need to purchase more and more 48's and FJ's, mostly for parts to keep himself on the road.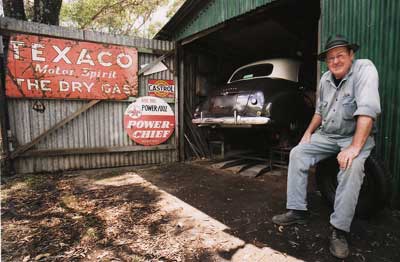 Inevitably this assorted collection of 48's and FJ's led to another business, that of a speciality business in wrecking and supplying good used parts to owners of these cars.
Ask Stan how many 48's and FJ's have passed through his hands and he will tell you he has no idea, but at one stage he had more than 40 stored at his home in Sydney's north west.
At about the same time, Stan began taking an interest in the history of 48's & FJ's, and slowly started recording details of any vehicles with which he came into contact. He also started to collect anything interesting associated with the 48's and FJ's, Brochures, Manuals, Dealer Information, Holden Bric-A-Brac, Parts and Accessories, etc.
When asked if he would describe himself as an historian, Stan says definitely not, he would call himself a researcher of these fine old vehicles.
Stan's life also included his wife Wendy, and raising his boys, Neville, Dale and Craig. Neville and Craig have inherited Stan's love of 48's and FJ's while Dale rides the USA Horse Circuit with considerable success. Neville and Craig would say that Humpies were in the blood and there was no escape.
Speedway racing was another of Stan's passions. In the 1960's Stan could be found on any Sunday racing at Westmead NSW in the Stock Rod Division. Many readers would have watched Stan's exploits in racing, always on the edge of major disaster, without realising it.
In 1966 or 1967, Stan met Pat Fay at the Bankstown Hot Rod Show, where they formed a friendship based on a mutual interest in 48's & FJ's. Pat is still a well-known face around swap meets and displays where he still operates a trade stand some 42 years later. In 1969 Stan joined the Early Model Holden Car Club, which catered to all types of early Holden's and was open to other older models as they became of age. This situation did not suit Stan's or Pat's objectives and in 1972 they decided to start an FX-FJ Club.
1973 saw the commencement of the FX-FJ Car Owners Club NSW which eventually morphed into the 48 & FJ Holden Owners Club NSW.
During these years as Stan's knowledge of 48's and FJ's grew, he began to find himself in demand from enthusiasts and the FJ movement alike. He is well known for his research and knowledge throughout Australia. He has formed an alliance with GM Holden and is a source of knowledge frequently drawn on by them.
He was a major source of information to other historians in Australia and his knowledge has helped them immensely with various publications.
Stan was able to draw on his immense supply of parts to assist in the restoration of Holden's prototype, now residing in the National Museum in Canberra. He was invited to supply display material for another exhibit in the same museum, which can be viewed as part of their display on the iconic Holden.
Stan's current club car is the well-known white over brown 1952 48 that was purchased in 1976 for a cost of $375.00 in pieces. It was some person's restoration project. Stan said that all the hard work had been done and all that was required was to reassemble it. This was duly done and the car has been a reliable club car ever since.
His devotion to the 48 and FJ movement is unparalleled. Positions held during the life of the 48 & FJ Holden Owners Club include;
Chairman for three consecutive years. 1973/75
Secretary for six consecutive years.1980/85
Treasurer for three consecutive years 1973/75 then again 1986 and 1988.
Membership Secretary for seven consecutive years 1980/86 then another eight consecutive years 1996/2003
General Committee in 1996/97
Magazine Editor for ten consecutive years 1981/90
CVVTMC Delegate for four consecutive years 1980/83
GM Day Delegate from 1976/90 and 1992/2007, a total of 31 years.
All Holden Day Delegate 1986
AMA Delegate 1981/82
Club Advisor 1976/78
During the first five years in the life of the Club Stan and Wendy attended to the Events duties prior to the appointment of an Events Director.
Public Officer for seven consecutive years 1997/2003
Clubman of the year 1994 and 2003
Stan was made a life member of the club in 1984.
He was a founding member of this club, still retains the No 1 membership card and has been a financial member the entire time.
His research and knowledge of 48 & FJ vehicles, together with his selfless duty to the club has put it at the forefront of the 48 & FJ movement and the envy of many around Australia. His stewardship means that this club is unique in Australia, in fact around the world, as catering totally to unmodified vehicles; a reputation that the current members are justifiably proud of.
In addition, Stan has compiled and edited four scrap books full of useful information for 48 & FJ Owners.
In 1986 he took part in the Holden Tour of Lang Lang, Fisherman's Bend and Hughes Brothers Museum in Victoria.
1992 saw him organise a special tour of 20 Holden's to Lang Lang, Fisherman's Bend and the National Museum in Victoria
In 1998 Stan took part in the 50th Holden Anniversary celebrations at Lang Lang, Fisherman's Bend and a visit to HSV in Victoria
1998 also saw Stan being presented with a Holden Appreciation Award by Holden Ltd for his outstanding service and support to the Holden Heritage and Club Movement.
Lastly in 2003 the 48 & FJ Holden Owners Club presented him with an award in recognition of 30 years of continuous contribution to the preservation of the Early Holden Movement.
Stan has the distinction of having entered every All Holden Day Event in NSW, a total of 23, with his familiar Brown and White 1952 Sedan.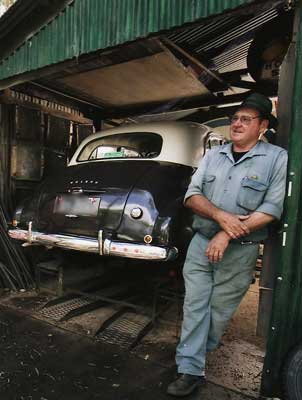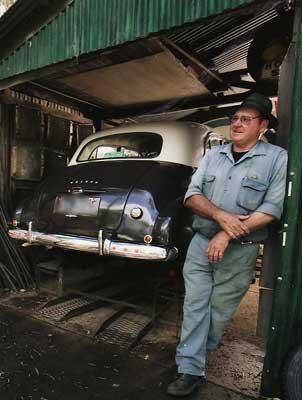 These days Stan has stood aside from any active involvement in the 48 & FJ Holden Owners Club, and has also relinquished his positions in outside movements.
But don't think that Stan Bennett has given up on his beloved cars. He is still researching the cars and continues to build on the wealth of knowledge gained over the years. He hopes he has secured a succession of his interest through his eldest son.
What Stan has done has built an almost complete history of 48's and FJ's. The fact that GM Holden frequently calls on his knowledge speaks volumes.
His home is really a museum of the marque, and a visit is a step back in time. Stan's collection of memorabilia, accessories and parts will never be surpassed.
Stan maintains a fleet of cars including the very rare 1948 Model, a rare 1949 Model and an equally rare 1950 Model, all in original and unrestored condition. There is an FJ Panel Van and an FJ Station Wagon of which there are few remaining. He has an FJ Yard Tow Truck that was built in 1971 from an FJ Utility body and that is truly unique. Lastly there is his faithful 1952, 48 Sedan club car.
So what does the future hold?
Stan says that age and health is slowly getting the better of him, but he still loves to tinker amongst his collection. One day he might get around to restoring his wonderful collection of cars. Meanwhile he is loving life and enjoying the many friends he has made during all his years in our movement.
Love him or not, Stan's legacy will be remembered forever.
Courtesy of the 48 & FJ Holden Owners Club