Death of George Kyrprios – Brisbane Icon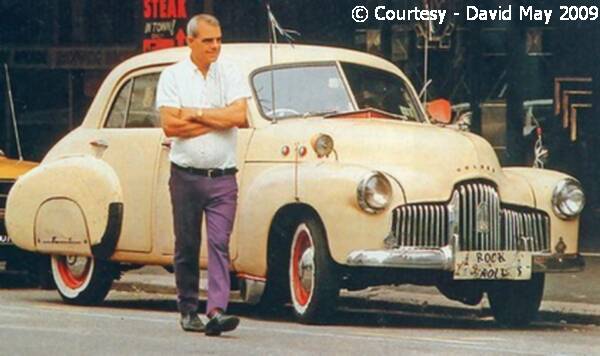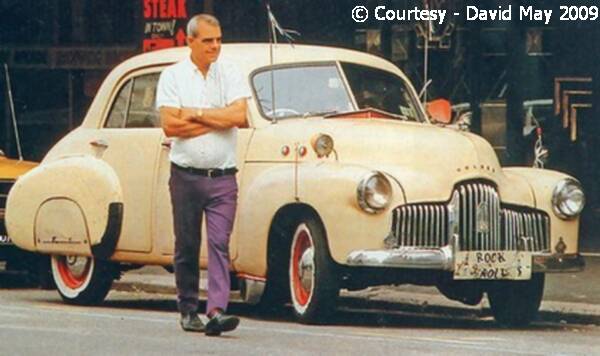 The song says rock'n'roll will never die but Brisbane's Rock'n'Roll George has gone to the great gig in the sky.
For decades George Kiprios drove his beloved 1952 FX Holden with its Rock'n'Roll numberplate around the city, becoming a legend in his own lifetime.
Queen Street was his main thoroughfare and thousands of Brisbane people knew him as a fixture on the city's main street, until part of it became a pedestrian mall.
When George – a keen dancer – earned his 'Rock'n'Roll' moniker, city hall was the tallest building in the oversized country town that was Brisbane, trams clattered around the streets and steam trains smoked-up the suburbs.
The Holden, which George bought brand-new, led a funeral procession down parts of Queen St on Thursday, followed by a hearse taking him on his last ride down the route he knew so well.
As modern Brisbane buzzed by, George's Holden sparked memories among a smattering of older onlookers.
Maria Bennett said George was 'always part of the scene' from the time when she arrived in the city in 1961.
More than 200 attended his funeral at the Greek Orthodox church in South Brisbane, where they were told of a true gentleman who found happiness in what he had.
John Carras said people would hear him coming because of his car's blaring music.
'He loved music and he hurt nobody,' Mr Carras said.
Nick Girdis said George had refused many offers – some substantial – for his car but swore he'd never sell.
Frankie O'Leary and Dinah Johnson came to the funeral not because they were close but because of George's status as a Brisbane legend.
Ms O'Leary said a friend once dared to accept an invitation for a ride in the FX and George drove her around the block and politely dropped her back, to the girl's disappointment.
'You'd always see George cruising up and down Queen Street but he did about five miles per hour,' Ms Johnson said.
George lived all his 82 years in the family home in West End and local MP and Qld premier, Anna Bligh, attended the funeral.
'George loved his family, he loved his car, he loved his rock'n'roll music,' Ms Bligh said.
'He was much loved in this community and I'm going to miss him and I know many people will.
'He was a legend.'
Ms Bligh said consideration was being given to preserving the iconic car, now considerably dilapidated, with the original red primer showing through.
'It's one of the things that defines our city,' she said.
'We'll be doing everything we can to save the car and to keep it preserved in an appropriate museum.'
During the funeral service priests sang 'rest the spirit you have taken from us' but many would rather think that George is wearing his winklepicker shoes, dancin' in a corner of rock'n'roll heaven.
Courtesy of Sky News – Friday 4 December 2009
PHOTOS FROM THE FUNERAL OF ROCK AND ROLL GEORGE