It's fast . . .
it has terrific acceleration . . .
it's quiet . . .
and it's economical,
(taken from the 48-215 Sales Brochure)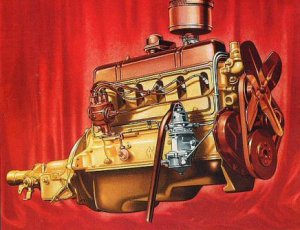 This was the very first Holden engine, painted grey and known as the 'Grey Motor'. The first version boasted 61hp (45kW) and was renown for it's great torque characteristics. This engine remained in production for eight years – until the release of the FE Holden in 1956. At that point, power was increased to 72hp (53kW) by an increase in the compression ratio to 6.8:1. A stiffer piston head and bigger valves also contributed to the increased power. In 1958 this engine gained a little more power through an altered camshaft and a further increase in the compression
ratio to 7.0:1. Even at that, it was basically under-stressed. In total, more than 637,000 of the 132.5ci (2160cc) grey motors were built.