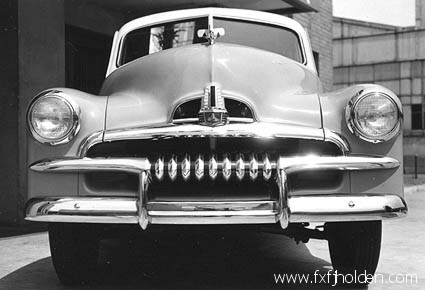 By adding more features, more chrome and a greater range of options to the original Holden, the company created Holden number two: the famous 'FJ'. Gone was the vertical grille, in its place an elaborate horizontal chrome affair. There were also different hubcaps and bumpers and new bright metal body decorations including small chrome fins on the rear guards. Although only a facelifted version of the 48–215 design, the FJ was the car which cemented Holden's position as the country's most popular car. It is now a celebrated piece of 'Australiana' and has been the subject of songs and a full– length feature film. The FJ used the same powertrain as the 48–215 with some mechanical refinements. The features which had made the 48–215 so successful remained the major selling points: excellent ground clearance, good ride, rugged drivetrain, energetic performance, comfortable seating for six, low maintenance, fuel economy and unbeatable value for money.
The accessory list was expanded and the choice of colours lifted to twelve. The new Special model featured armrests and a cigarette lighter and was available with a two tone exterior paint finish. Before 1953 was out, Holden had released a new variant: the panel van. Production was raised to 200 units per day.
For the first time Holden's were shipped to New Zealand, the start of an export trade which continues today.
The 48–215/FJ had a big impact on the racetrack with its low weight making it the favoured competition Holden long after it had been superseded. Tweaked by clever race mechanics and driven with bravado, a 48–215 or FJ could hit nearly 200 km/h on the fastest circuits.
Taken with the permission of Holden – http://www.holden.com.au from the Holden Official website